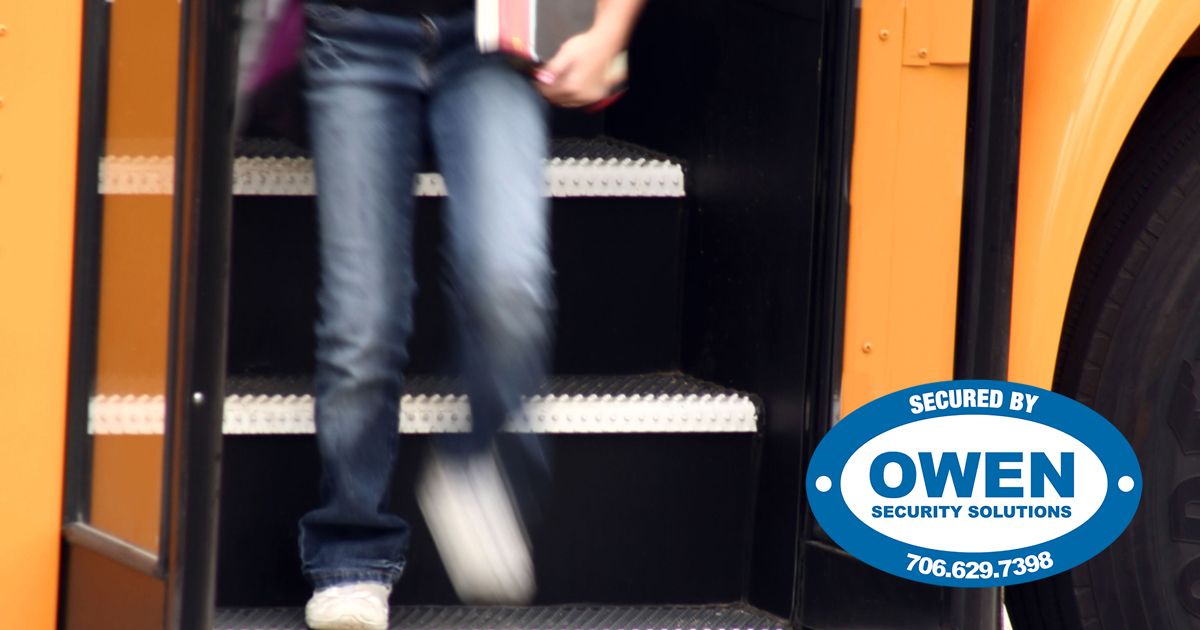 The 2019-2020 school year has begun and parents everywhere have run frantically through town purchasing school supplies and new outfits for their students. However, during all of the hectic errands and shopping to prepare your child for the upcoming school year, have you considered your child's safety after the school day is done?
Do you ever worry about heavy traffic, working late, last minute meetings or carpooling to practices leaving you with no choice but to leave your child(ren) at home unsupervised? Deciding whether your child is mature enough to stay home is a big decision and leaves many parents feeling uneasy. Please take a couple of moments to look over these eight safety refresher tips for after-school safety!
Locking Doors
It may seem simple, but reminding your child to never open doors for strangers, especially when they're home alone, could potentially save their life. This also goes for never accepting gifts, food, drinks or rides from any one with whom they don't have direct consent from you.
Video Doorbell
Video doorbells send notifications to your mobile app in real-time to allow you to see who is at your door and even answer the door without being home. Video doorbells are equipped with live video, motion-detected recordings and storage to document visitors if you are unavailable, and two-way voice communication. This SmartHome feature is perfect for allowing you to see who approaches the door of your home when your child is home alone and can even allow your child to see who is at the home without the risk of opening the door.
Where to go for help
Be sure that your child knows who to call or where to go for help when you are not home, whether it be a police officer, teacher or trusted neighbor. If there were ever an emergency during which they couldn't contact you, ensure that they know what steps to take and who to reach out to.
Memorize Important Numbers
In addition to ensuring your child knows who and where to go for help, it is advisable to also have them memorize their home address, parent or guardian cell phone numbers and that they are certain of who they should contact in the event of an emergency.
Social Media Safety
As parents, we are responsible for teaching our children the appropriate usage of social media and the danger of strangers online. Children should be made well aware of how many potential dangers there are in giving out home addresses, current location and in letting people know that they are home alone.
Alarm system with Remote Alerts
A home security system can be used for much more than just protecting belongings inside your home when no one is home. SmartHome Security Systems can be set up to send parents alerts when children arrive home and disarm the system. Many parents rely on these notifications as reassurance that their children have made it home safely. Sensors can also be set to alert you if doors are opened again after your child's arrival or allow you to arm the system in the 'Stay' mode right from your mobile app!
Make sure your child knows how to use the alarm system
Children should know how to use the alarm system so that they can arm, disarm and use the panic buttons for home intrusions, fire and medical emergencies. These panic buttons on your alarm system immediately send the appropriate first responders without triggering the system's siren.
Home Automation for safety
SmartHome Security Systems and Home Automation can be paired to increase the safety of your home and your awareness of events inside your home. These systems can be set up to send notifications if particular doors are opened or if your child enters areas that are off-limits while unsupervised, such as pool areas, medicine cabinets or areas where firearms are stored.
A parents best judgement should be used in determining if their child is ready to be left at home unsupervised; however, before making the final decision, please be sure to check your state and local laws requiring the minimum age for being left alone.
The Georgia Department of Human Services Lack of Supervision Guidelines states that while Georgia does not have laws that regulate the supervision of children, the Department of Family and Children Services does have guidelines that they follow closely. Those guidelines can be viewed on the department's website at www.dhs.georgia.gov.
If you would like more information on turning your home into a SmartHome, give Owen Security Solutions a call at 706.629.7398 or visit us online at www.OwenSecurity.com and let us help you stay One Step Ahead!
About Owen Security Solutions
For more than 40 years, Owen Security Solutions has been a locally owned and operated business committed to providing North Georgia with trusted service and premier solutions for the protection of lives and property. For more information on the products and services provided by Owen Security Solutions, please visit http://www.OwenSecuritySolutions.com