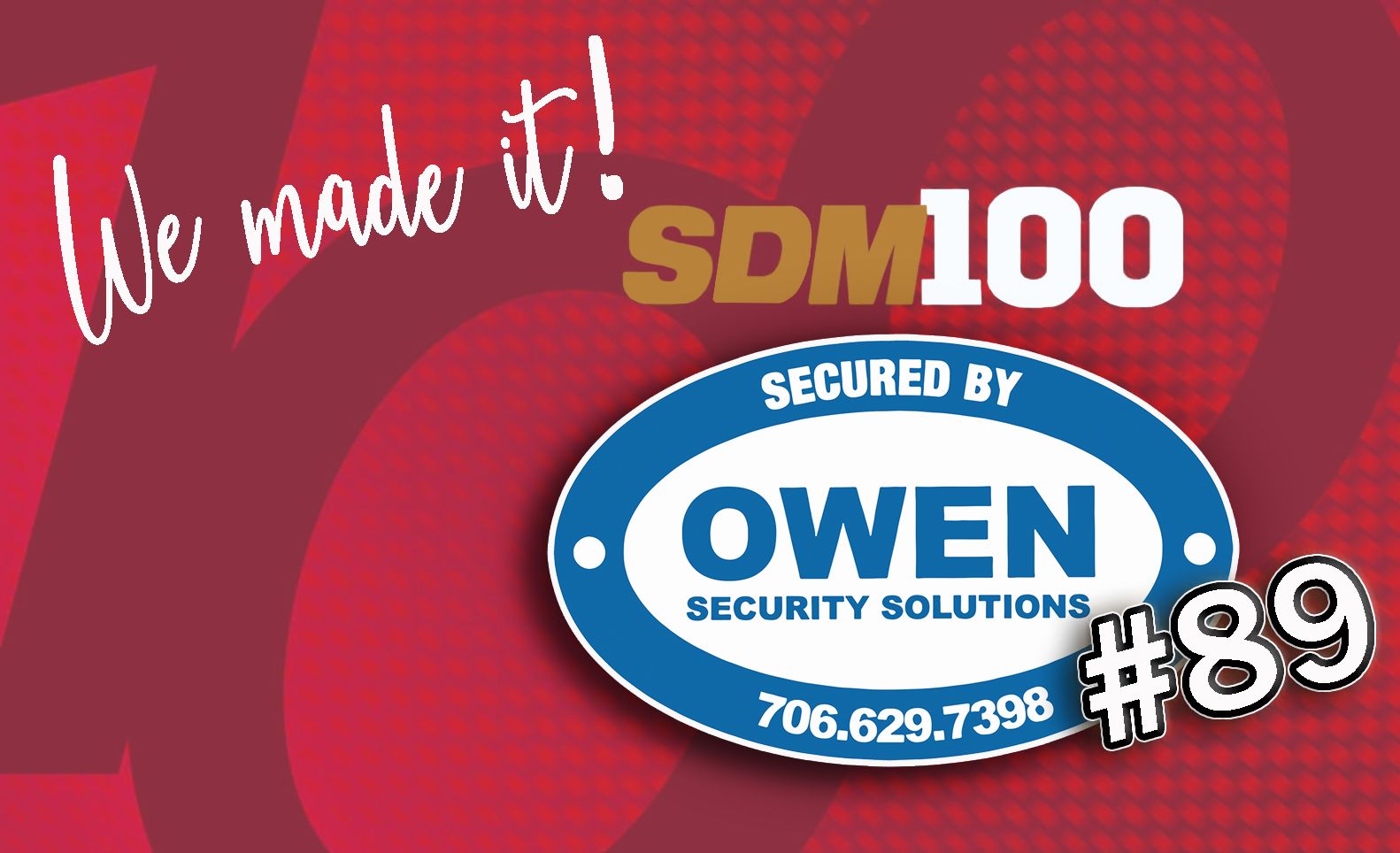 Owen Security Solutions was recently recognized for climbing on the 2019 Security Distributing and Marketing Top 100 Report. The Northwest Georgia-based company progressed from ranking number 94 on the industry-wide report in 2018 to its current spot at number 89 in the country for 2019.
This annual ranking is provided by SDM Magazine, which has been producing the report of the top 100 largest security providers in the country for the past 28 years. Each year, the magazine ranks companies in the United States that earn their revenue from the sale, installation, service and monitoring of electronic security systems, such as intrusion and fire, access control, video surveillance and related low-voltage systems, to residential and non-residential customers. The primary objective of this report is to measure and account the size of the market served by the nation's 100 largest security providers.
Established by founder Gary Owens in 1973, Owen Security Solutions is a second-generation, locally-owned and operated company based in Calhoun, Georgia. Now led by owner Justin Owen, the company staffs more than 30 employees and serves more than 7,000 customers in the Northwest Georgia and Tennessee-Valley areas.
"I am so honored to be a part of this team and proud of everyone's commitment to our growth while ensuring our customers remain satisfied and well taken care of ," said Owen. "It is exciting to see what this team is accomplishing. We are grateful for our loyal customers and community support. We can't wait to see what the next year holds for us."
Owen Security Solutions is part of the Electronic Security Association, the Georgia Security Chapter, National Institute for Certification in Engineering technologies, the local Chambers of Commerce for the communities it serves, as well as a member of the Honeywell Authorized Dealer Program and the DMP Dealer Program. For more information about SDM or Owen Security Solutions, please visit https://www.sdmmag.com/articles/96583-sdm-100-above-average and www.OwenSecurity.com.
About Owen Security Solutions
For more than 40 years, Owen Security Solutions has been a locally owned and operated business committed to providing North Georgia with trusted service and premier solutions for the protection of lives and property. For more information on the products and services provided by Owen Security Solutions, please visit http://www.OwenSecuritySolutions.com