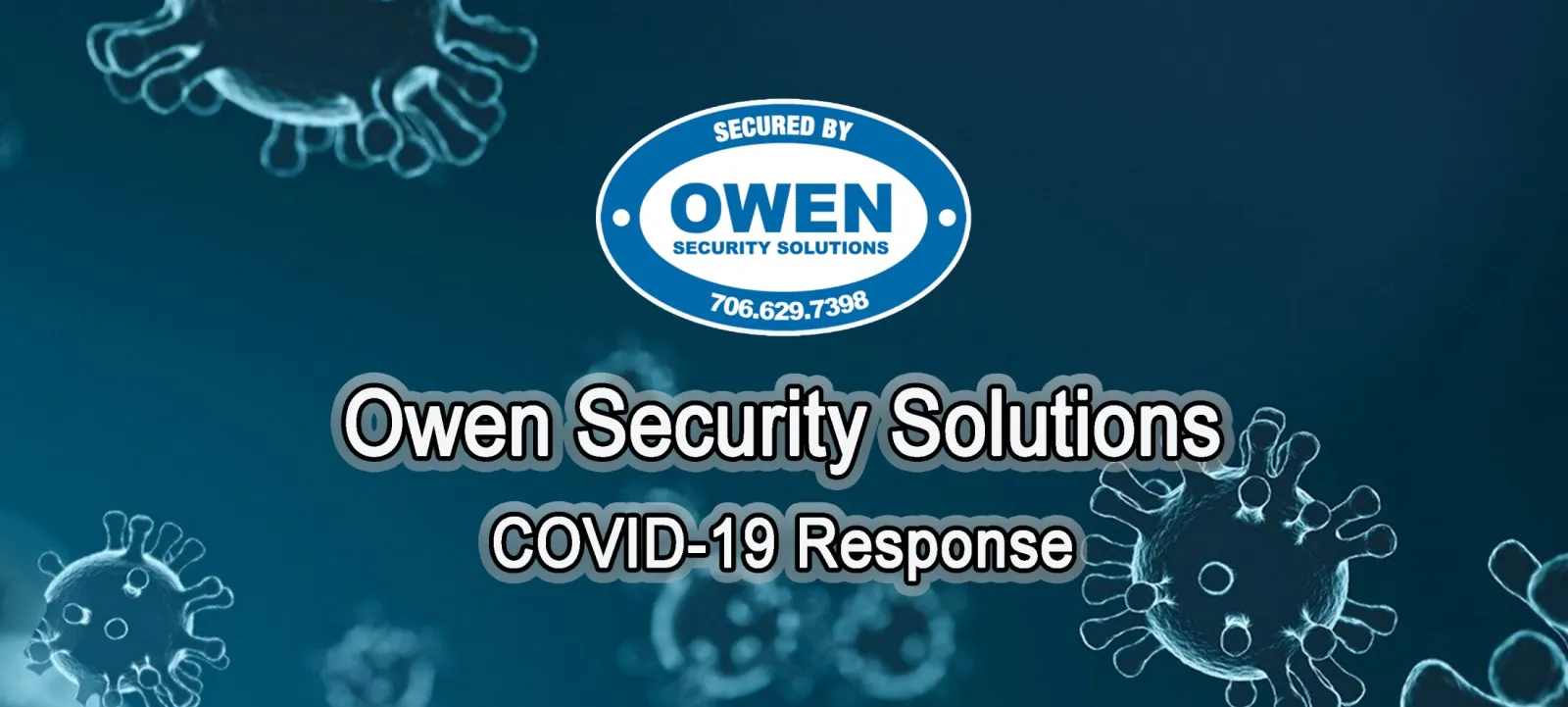 To Our Valued Customers,
During this time of concern surrounding coronavirus (COVID-19), Owen Security Solutions would like to reassure our customers, employees, and communities that their safety and security remain our top priority, just as they have for more than 47 years.
We understand that our residential and commercial customers' need for safety and security does not stop in times such as this, and we assure you that neither will our commitment. Owen Security Solutions' installation, service, troubleshooting, and customer service teams are ready to respond to any customer needs that may arise.
Although our promise of excellence and dependability will not waiver during this concerning time, we have implemented safety measures to avoid disruptions to our business operations and are taking all possible precautions to ensure that each department is equipped to continue protecting our customers and their families around the clock.
We have taken additional steps to communicate with and prepare our employees to ensure we keep each other and our customers safe. Steps we have taken include:
Informing employees of the importance of cleanliness and sanitation during this time to prevent the contraction or spreading of illnesses. We are also doing our very best to keep the entire company up-to-date with the latest information concerning the severity of COVID-19.
Providing additional supplies needed to minimize risks, including hand sanitizer and disinfectant. We have asked every employee to participate in the disinfection and sanitization of their areas to minimize the transmission of germs.
We have asked that employees be forthcoming with any information about any possible direct or indirect contact with COVID-19 and have encouraged them to stay home if they are not well or feel that they are at-risk.
24/7 Monitoring & Customer Care
We are happy to report that there have been no interruptions in the monitoring or dispatch services we provide to our customers.
We have asked all employees who may be unwell or may have had possible contact with the virus to stay at home. Additional sanitary and disinfectant supplies have been provided for our employees and they are encouraged to use them as often as necessary. We are also utilizing online tools to continue meetings, conferences, and training.
Sales, Service, Installation Teams
Our Sales, Service, and Installation teams have been instructed to proceed in the safest manner concerning the COVID-19 virus. We have provided each employee and vehicle with cleaning materials, sanitizer, and disinfectant for use before and after each stop.
We also ask that our customers who may be concerned about their health, have traveled recently, are feeling unwell, or may have been exposed to COVID-19 to please take the necessary precautions prior to their appointments or to call and reschedule their appointment.
As more information is released, Owen Security Solutions will continue to closely monitor and assess the safety of our customers and employees. We appreciate the continued support and promise to do our very best to ensure the confidence and comfort of our customers while keeping safety our top priority. Those around the world that are or have been affected by this virus are in our thoughts.
About Owen Security Solutions
For more than 40 years, Owen Security Solutions has been a locally owned and operated business committed to providing North Georgia with trusted service and premier solutions for the protection of lives and property. For more information on the products and services provided by Owen Security Solutions, please visit http://www.OwenSecuritySolutions.com