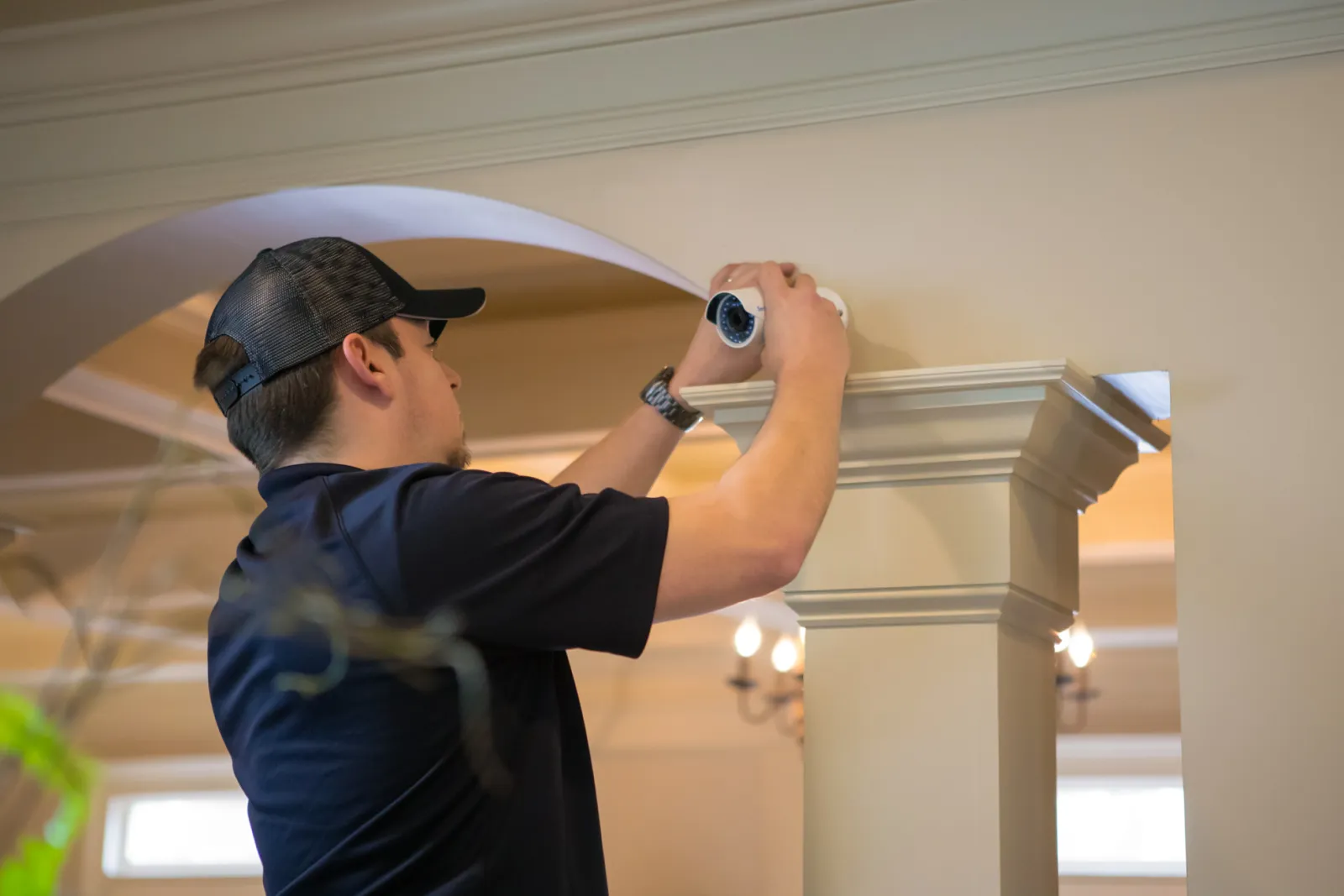 Let's face it, as much as we would like to think home break-ins will never happen to us, the reality is that it can happen to anyone. At Owen Security Solutions, we believe in always being One Step Ahead. That's why we recommend home security and surveillance cameras to anyone looking to step up their home security game.
Proactive Protection
Surveillance cameras are often considered one of the best crime deterrents available and act as a red flag for anyone who may be attempting to gain access to your home or belongings. More often than not, a residential security camera can stop a break in before it even happens, which saves you repairs, effort, time, money and lots of trouble in the long run.
Peace of Mind
Another great reason to incorporate residential surveillance cameras into your home security system is the peace of mind you will gain by being view your home whenever you like. With modern home security and surveillance cameras, you can now use your mobile device to view live footage of your home, save and protect important recorded video clips or even speak to the person on your front porch. Whether you are out of town for a week or at work for the day, live footage of your home is available 24/7 at the touch of a button! Technicians can install Wi-Fi based cameras or DVR/NVR systems nearly anywhere in or on your home, ensuring your property and loved ones are always protected.
Video Verification
Although Owen Security Solutions' surveillance cameras allow you 24/7 access to your security footage, there's no need to worry about checking it constantly. We can provide around-the-clock monitoring to ensure your home is protected so that you don't have to. Video Verification allows your home's video footage to pop-up on your phone as a notification the instant your alarm is triggered AND the footage can be sent directly to our agents on-staff, who can then verify the activity and notify and dispatch emergency services.
Price Isn't a Problem
Residential Video Surveillance is often overlooked for fear of bulky equipment, maintenance and cost. Our technicians and security advisors pride themselves in listening to the specific needs of each homeowner and are experienced in designing systems that are the perfect fit for your needs AND your budget. We offer a wide variety of services at a fair and cost-effective rate.
At Owen Security Solutions, our goal is to keep you One Step Ahead in theft, life safety and technology. We offer a wide variety of services at a fair and cost effective rate, and there is no better time than now to get more information! Contact us today for incredible deals, including 6 MONTHS OF FREE MONITORING! For more informations, please contact us at 706-629-7398, owenadmin@owensecurity.com or visit www.owensecurity.com.
About Owen Security Solutions
For more than 40 years, Owen Security Solutions has been a locally owned and operated business committed to providing North Georgia with trusted service and premier solutions for the protection of lives and property. For more information on the products and services provided by Owen Security Solutions, please visit http://www.OwenSecuritySolutions.com