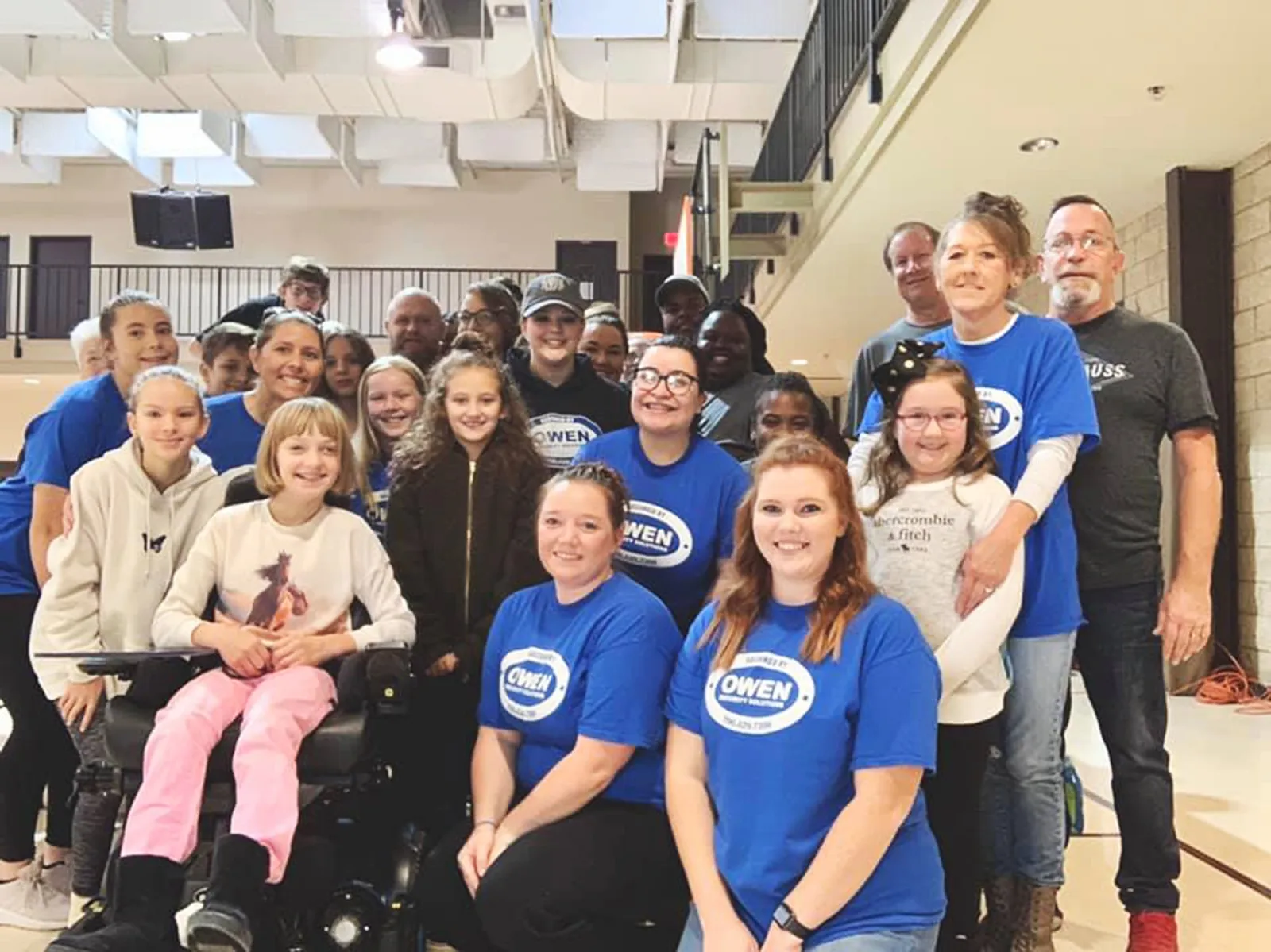 Owen Gives Back Program Feeds Gordon Community on Thanksgiving
The employees of Owen Security Solutions gathered on Thanksgiving Day to prepare and serve a Thanksgiving feast to the Calhoun and Gordon County community at Calhoun First Baptist Church.
Team Owen, along with volunteers from Calhoun First Baptist Church and other local organizations, collected donations, prepared and then served a wonderful Thanksgiving Day meal to more than 150 individuals. Community first responders were also invited to enjoy the warm meal, in appreciation for spending their holidays protecting our communities. All leftover food was donated to the Voluntary Action Center and the Calhoun Men's Shelter.
The Owen Gives Back Program was formed by employees as a way to come together as a company, give back to the community and help those in need. Employees make donations each week to the Owen Gives Back fund and, as a whole, the team decides in which ways the funds will be used. In addition to the annual Thanksgiving lunch, the program is also used each year to purchase Christmas gifts for multiple children in foster care, as well as to donate school supplies to students at the beginning of each school year.
The Owen Security Solutions team would like to extend our gratitude to the following individuals, businesses and organizations for their donations and assistance in making this another successful community Thanksgiving meal:
Family Savings Credit Union, Calhoun https://www.familysavingscu.com/
Food Lion, Calhoun https://www.foodlion.com/stores/ga/calhoun/2615/
Rhys Poultry, LLC Food City, Calhoun https://www.foodcity.com/community/news/354/
Pintage Antique Market http://www.pintageantiquemarket.com/
Walmart, Calhoun https://www.walmart.com/store/1215/calhoun-ga/details
Big John's Treat Shoppe https://www.facebook.com/bigjohnstreatshoppe/
Dub's High on the Hog BBQ & Grill https://www.facebook.com/dubshighonthehog/
IHOP, Calhoun https://www.ihop.com/en/restaurants-calhoun-ga/742-hwy-53-se-490
Sonic Drive-In, Calhoun https://locations.sonicdrivein.com/ga/calhoun/716-s-wall-street.html
Longhorn Steakhouse, Calhoun https://www.longhornsteakhouse.com/locations/ga/calhoun/calhoun/5302
Wholesale Food Outlets, Calhoun https://www.calhounwfo.com/
Thatcher's BBQ & Grill https://www.thatchersbbq.com/location/calhoun/
Olive Garden, Rome https://www.olivegarden.com/locations/ga/rome/rome/1729
Allen Chapel, AME Church https://www.faithstreet.com/church/allen-chapel-a-dot-m-e-church-calhoun-ga
Stephanie Shipman, Comcast Spotlight / Effectv https://www.effectv.com/
LaRhonda Johnson, Flipper McDaniel & Associates Realty https://www.larhondajohnson.com/
Jonah Campbell
Kimberly Brown
Kenya Teems
Joel Torres
About Owen Security Solutions
For more than 40 years, Owen Security Solutions has been a locally owned and operated business committed to providing North Georgia with trusted service and premier solutions for the protection of lives and property. For more information on the products and services provided by Owen Security Solutions, please visit http://www.OwenSecuritySolutions.com