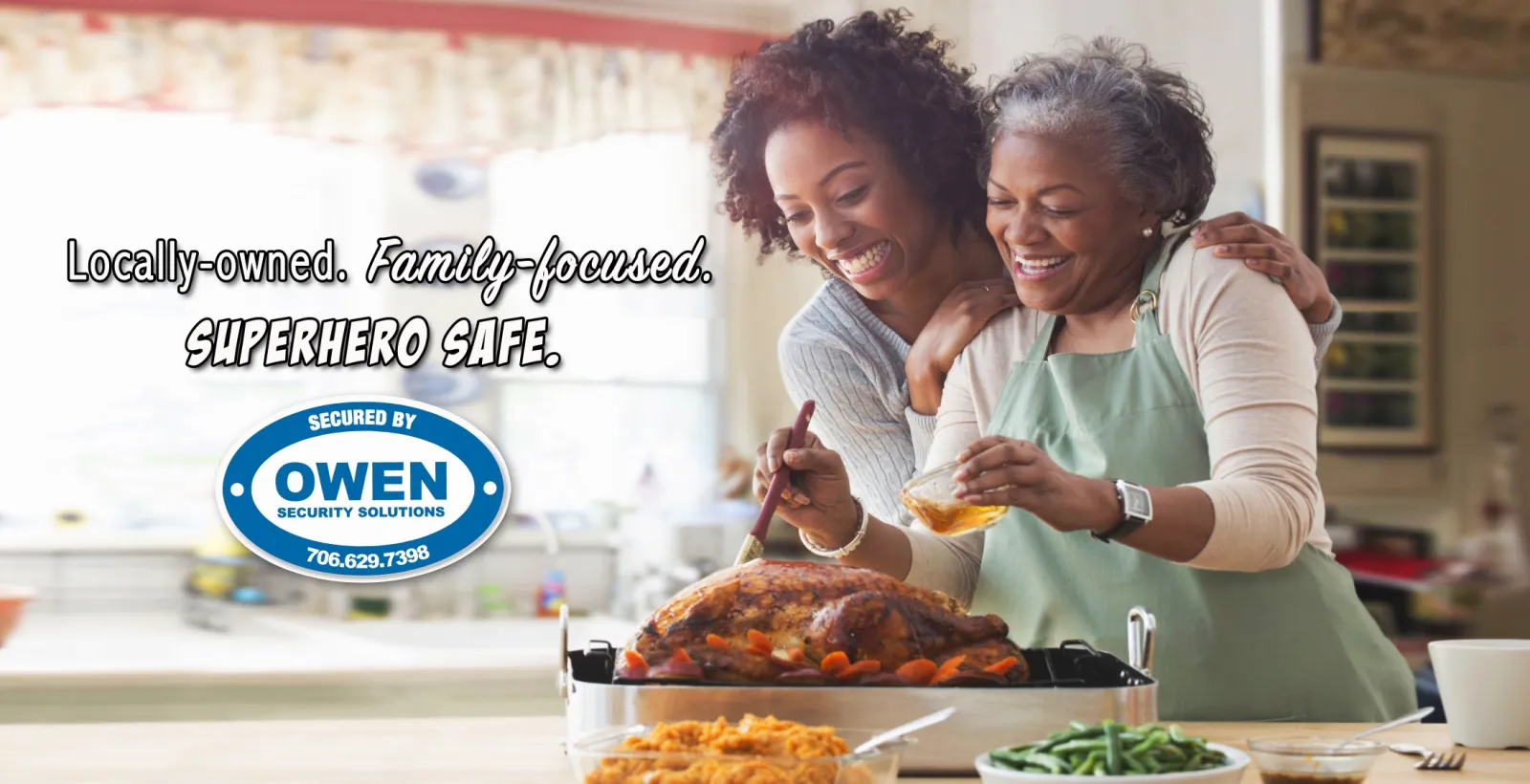 Thanksgiving is quickly approaching and for many households this means traveling to visit loved ones, made-from-scratch feasts and fellowship with family. For most, these holiday festivities and memorable moments are centered around the kitchen, which means that keeping fire safety at the forefront of your mind during this hectic and joyous time is very important to protecting those you love.
According to data from the United States Fire Association , each year, Thanksgiving Day is the peak day for cooking fires in American homes. An estimated 2,000 Thanksgiving Day fires occur annually in residential buildings in the United States. The primary cause of these residential fires each year is cooking and, unfortunately, smoke alarms are often not present in 20 percent of these instances.
Ranges or cooktops were involved in the 62% of reported home cooking fires, 89% of cooking fire deaths and 79% of cooking fire injuries.
Households that use electric ranges have a higher risk of cooking fires and associated losses than those using gas ranges.
Unattended cooking was the leading cause of cooking fires and casualties. Clothing ignitions led to 14% of the home cooking fire deaths.
Almost one-third (30%) of the people killed by cooking fires were sleeping at the time. More than half (53%) of the non-fatal injuries occurred when people tried to control the fire themselves.
Some holiday safety tips from Owen Security Solutions:
The first step you should take to protect your family and home this season is to be sure that you have working smoke alarms on every level of your home and outside each sleeping area. Smoke alarms should be replaced at least every 10 years to ensure proper working order, and batteries in smoke detectors should be changed every six months.
Never leave cooking food or in-use appliances unattended. Being present and keeping an eye on food to ensure that it doesn't boil over, burn, or put anyone in danger is the best way to prevent possible injuries.
Keep your cooking workspace clear of any trash, combustible products, or flammable materials. Wooden utensils, oven mitts, towels and place mats can also catch fire quickly.
Be sure that you wear clothing that will not drape or be loose-fitting while working near fire or heat. Clothing fibers can melt to your skin, ignite, or get caught and cause unintentional fires, spills, or burns.
Children should be at least three feet away from cooking areas and any area where hot foods or drinks are prepared. Steam or splashes from these items could cause serious injuries or burns.
Always keep your kitchen stocked with a fire extinguisher. Type K extinguishers are specifically for grease fires and type ABC multipurpose extinguishers can be used for flammable liquids, wood, and electrical fires.
Never put water on a grease fire. Water could splatter the fire and cause it to spread much more quickly. Baking soda and a lid for the pan can be used to help deprive the fire of oxygen.
Turkey fryers should be kept outdoors and a safe distance from buildings or flammable materials. Never use these fryers in an enclosed area or on a wooden surface. Do not leave fryers unattended, use well-insulated mitts and safety goggles when working near the fryer, and keep a fire extinguisher nearby. Most importantly, ALWAYS ensure the turkey has thawed before putting it into the fryer. The National Turkey Federation recommends that turkeys thaw for at least 24 hours for every five pounds in weight.
We hope that these by following these holiday safety tips many more families enjoy a wonderful and safe holiday season with loved ones!
For more information on a home security system or life protection system and monitoring, please give us a call at 706.629.7398 or visit our website www.OwenSecurity.com. For downloadable or printable safety tip sheets, visit the National Fire Prevention Association website.
About Owen Security Solutions
For more than 40 years, Owen Security Solutions has been a locally owned and operated business committed to providing North Georgia with trusted service and premier solutions for the protection of lives and property. For more information on the products and services provided by Owen Security Solutions, please visit http://www.OwenSecuritySolutions.com