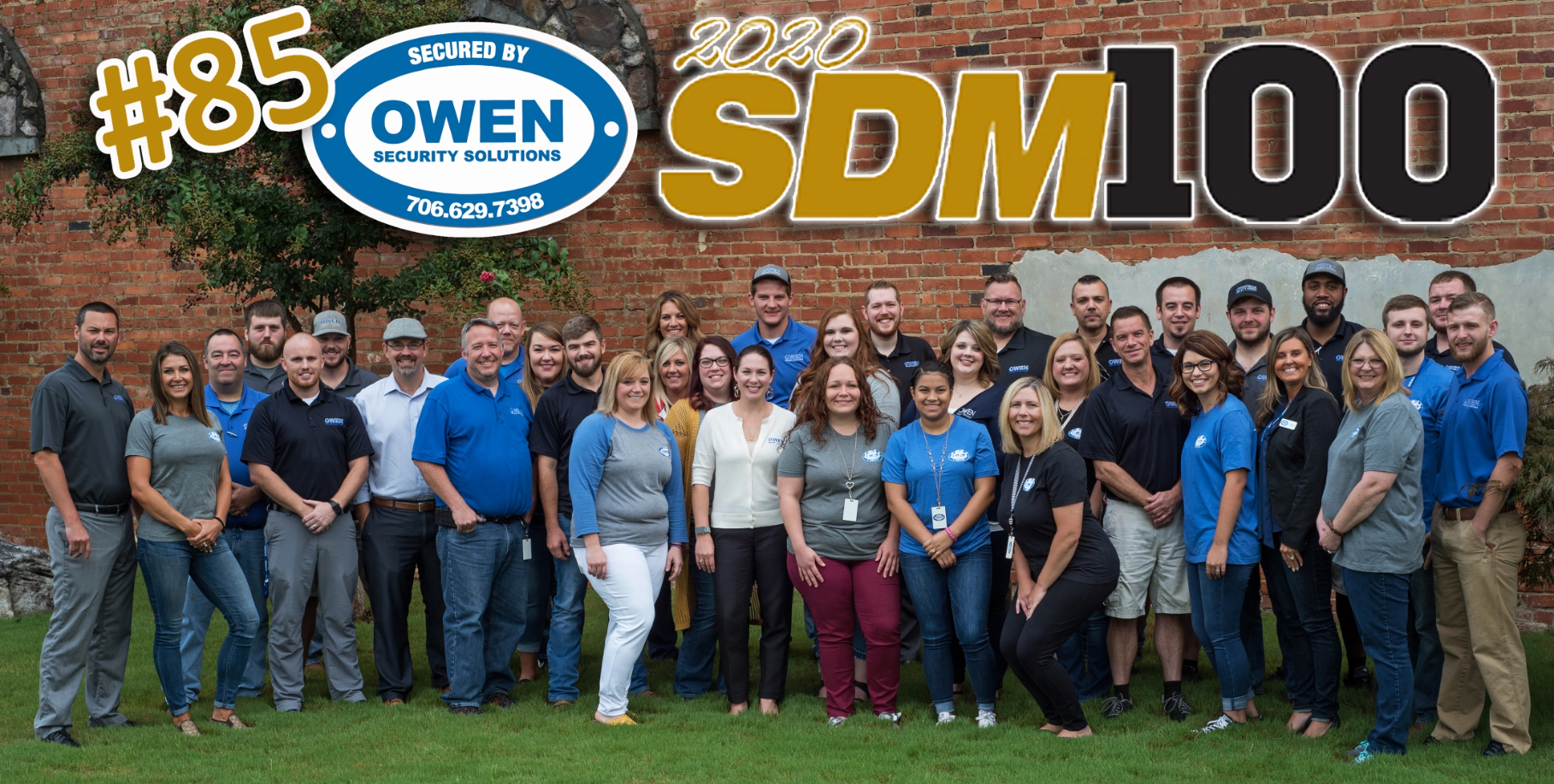 Owen Security Solutions, an American security, technologies and integrations company, celebrates its announced ranking on SDM Magazine's list of the nation's top 100 security companies. The company has continued to ascend the industry's chart each year, since first appearing in 2017, and has now secured number 85 on the list among industry competitors such as Brinks Home Security and Guardian Protection.
Founded by Calhoun native Gary Owen in 1973, Owen Security Solutions is a second-generation, locally-owned and operated company based in Calhoun, Georgia. Now led by president and owner Justin Owen, the company employs more than 40 employees and serves more than 7,000 customers from metro-Atlanta to the areas surrounding Chattanooga, TN.
"I am extremely proud of our team for another year of accomplishments and growth," said Justin Owen, President of Owen Security Solutions. "This group of individuals is driven and dedicated to seeing our company not only succeed, but THRIVE, and they are determined to accomplish great things! As always, without our loyal customers and supportive community, this would not be possible."
Security Distributing and Marketing (SDM) is a trade media that provides security professionals with industry news, insights and technical solutions. The SDM Top 100 list is released each Spring and, for 28 years, has ranked U.S. companies that provide the sales, installation, service and monitoring of electronic security and life safety systems to residential and non-residential customers.
Owen Security Solutions is part of the Electronic Security Association, the Georgia Security Chapter, National Institute for Certification in Engineering technologies, the local Chambers of Commerce for the communities it serves, as well as a member of the Honeywell Authorized Dealer Program and the DMP Dealer Program.
For more information about SDM or Owen Security Solutions, please visit https://www.sdmmag.com/2020-SDM-100-Rankings and www.OwenSecurity.com.
About Owen Security Solutions
For more than 40 years, Owen Security Solutions has been a locally owned and operated business committed to providing North Georgia with trusted service and premier solutions for the protection of lives and property. For more information on the products and services provided by Owen Security Solutions, please visit http://www.OwenSecuritySolutions.com