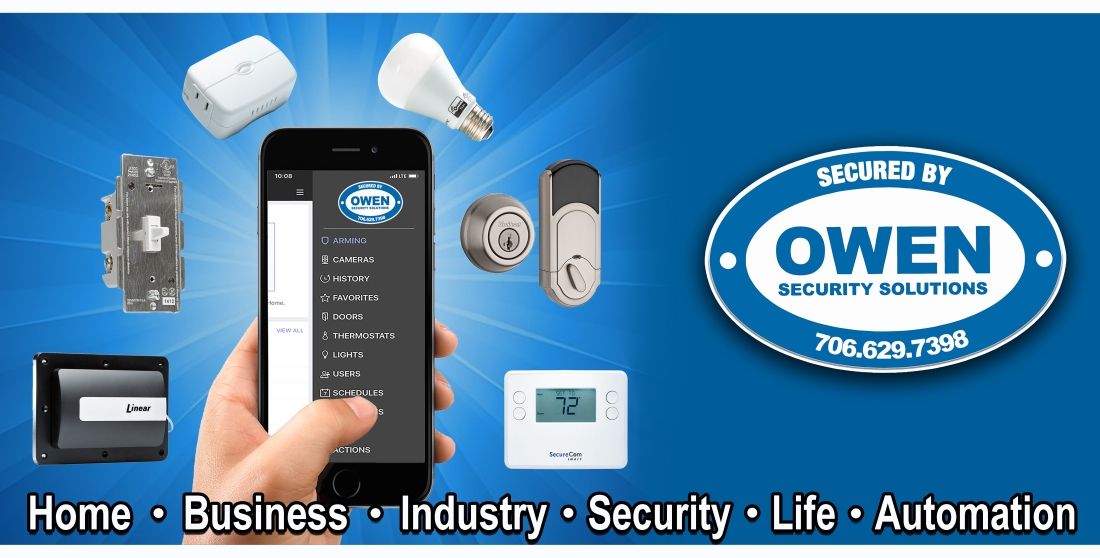 Security systems were once expensive devices that were only affordable for large businesses and wealthy households,
but not anymore!
All levels of crime rates have continued to rise in recent years and the security industry as a whole has recognized the importance of affordable and reliable security for renters, homeowners and business-owners alike.
At Owen Security Solutions, we are committed to providing the latest in security technology to both current and prospective clients. Our complete security, life safety and home automation systems are advanced enough to alert users in the event of a break-in, fire, flood, power surge or outage, burst pipes, temperature alerts and medical emergencies! Our systems are custom designed to fit your needs, make your life easier AND save you money!
Here are just a few of the additional features our systems offer to make your home or business more secure, safe and efficient.
Medical Alert Devices
It's important to know that you can reach loved ones and medical professionals in the event of an emergency. Owen Security Solutions offers customers a medical alert device that works with your home security system to signal emergency services with the simple push of a button. This device can be worn as a traditional lanyard or on the wrist, allowing easy access to the pendant in times of distress while remaining discreet.
Smoke Alarms
No home or business should be without smoke detectors! Our security systems are programmed to use smoke detection devices to alert occupants of smoke before a fire begins. This gives your family or employees vital time to escape the structure and alerts emergency services in an effort to prevent damage or loss of lives or property.
Carbon Monoxide Detectors
Our carbon monoxide detectors sole purpose is to alert occupants of any dwelling or business of the presence of excess carbon monoxide in the air. Being alerted of CO2 before experiencing symptoms will allow you to vacate the area and protect yourself, loved ones, employees, customers and pets from inhaling this deadly chemical. You will then have the opportunity to ventilate the area and hire a professional to find the source of the leak.
Flood Sensors
Although disasters such as home fires get far more media attention, flooding is a much more common disaster for homeowners and, unfortunately, does substantially more damage with effects that can last for months. While Owen Security Systems cannot prevent flooding, when our systems are installed and equipped with flood sensors, they can alert you as soon as a leak or flood is detected. The more quickly you are made aware of these circumstances and can address them, the more likely you are to limit the damage incurred.
Home Automation Devices
Owen Security Solutions' Home Automation options allow you to control, automate, protect and monitor your home with affordable and intelligent solutions. Take control of your energy bills by programming your thermostats to auto-adjust, turn off lights in empty rooms and double-check locked doors from anywhere. Enjoy the ability to unlock doors for guests or repair workers, turn on/off small appliances while away from home and never come home to a dark house again! Customize your home to fit your family's lifestyle with these great features and others, including cameras, home theater systems, security and life safety in one complete SmartHome experience!
For more information about Owen Security Solutions and the great products and services we offer, please visit our website today at https://www.owensecurity.com/ and follow us on Facebook!
About Owen Security Solutions
For more than 40 years, Owen Security Solutions has been a locally owned and operated business committed to providing North Georgia with trusted service and premier solutions for the protection of lives and property. For more information on the products and services provided by Owen Security Solutions, please visit http://www.OwenSecuritySolutions.com