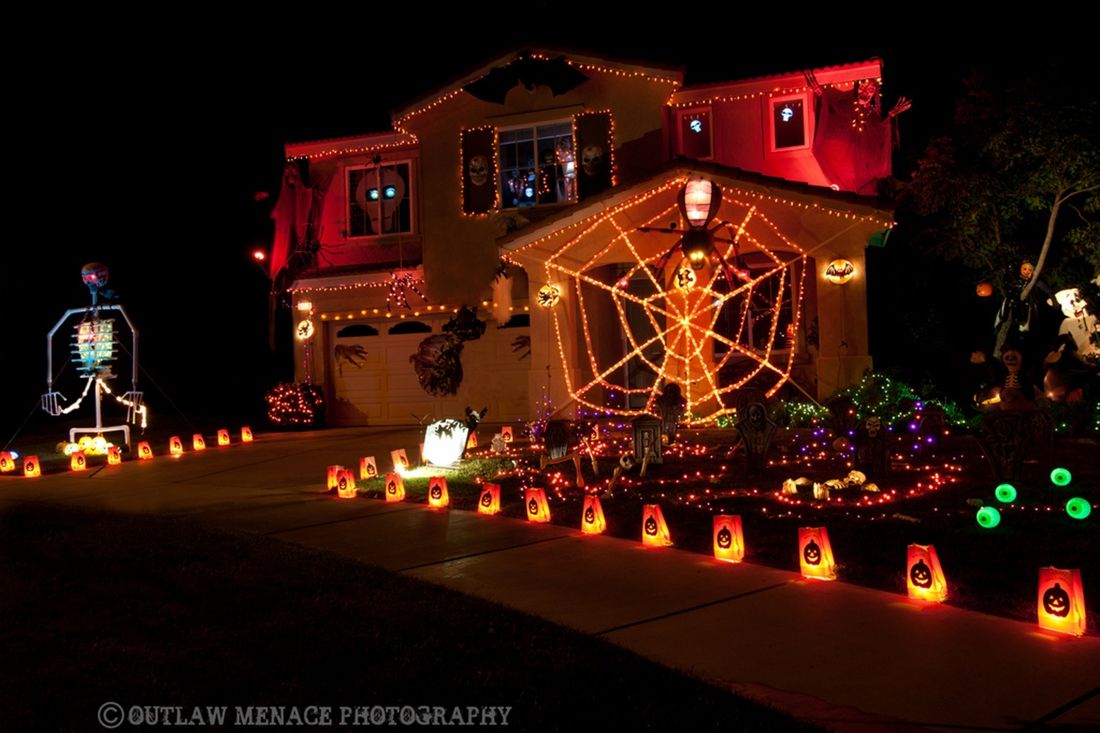 SmartHome Halloween Decor & Ambiance at the Touch of a Button
Halloween is one of the most fun-filled holidays of the year! Cooler weather, colorful scenery and fun, fall family activities are all around; however, to really get into the Halloween spirit, you must set the mood! Here are a few tips for spooking up your home using the SmartHome features available right at your fingertips from your home security system!
Sights:
Create an eerie ambiance with spooky lighting using your SmartHome automation system. Schedule both indoor and outdoor lighting to automatically activate at a designated time. Not only does this give you the chance to show your festive side, even when you're not at home, it also helps to deter potential burglars or mischief by giving the impression that someone is home.
Rest assured that slyly using your mobile app to activate strobe lights, fog machines and/or electronic decorations as visitors approach your spooky setup will keep them on their toes and earn you a spot as one of the neighborhood's best stops!
Replace exterior and landscape lighting with festive colored bulbs, such as green, purple, orange or black, to add an ominous touch to outdoor decor without sacrificing the security of well-lit outdoor spaces.
Check out this blog with photos for more GREAT ideas on how to decorate your yard with lights! https://www.fromhousetohome.com/entertainingdiva/halloween-outdoor-lighting/
Sounds:
Set the mood with superior spooky sounds through your Sonos Home Speaker. With high quality sounds and room-rumbling bass, your visitors will be thrilled and chilled with streaming sound effects, such as screams, squeals and evil laughs! Muah-ha-ha!
Check out the MANY free sound effects at this great site: https://www.partnersinrhyme.com/soundfx/scary_halloween_sounds.shtml
Spooks:
Use your Video Doorbell for "Tricks" and "Treats".
Video Doorbell Cameras are the newest trend in home security and surveillance. These devices are programmed to alert the homeowner of movement at the door and allows them to see and record video as well as communicate using the two-way voice feature.
This Halloween, when your Video Doorbell alerts you to approaching Trick-or-Treaters, consider using the opportunity to give them a little fright! Using the two-way communication, send crazy sound effects or a personalized greetings as they approach your home and knock!
The best part of this tip? The Video Doorbell will record the whole thing and you can continue to the tricks and the treats again and again until next year's spooky season!

Security:
While your SmartHome system can help you achieve the eerie ambiance and decor you desire this season, its main purpose is to keep you and your family safe!
If you plan on being away from home around Halloween, your SmartHome technology helps protect your home, loved ones and property.
Help keep pranksters at bay by arming your home security system, using your system's video surveillance features to keep an eye on your home and rest assured that our professional monitoring team is on standby 24/7!
Are you ready to get moving on making your home a SmartHome? Call us today!
About Owen Security Solutions
For more than 40 years, Owen Security Solutions has been a locally owned and operated business committed to providing North Georgia with trusted service and premier solutions for the protection of lives and property. For more information on the products and services provided by Owen Security Solutions, please visit http://www.OwenSecuritySolutions.com