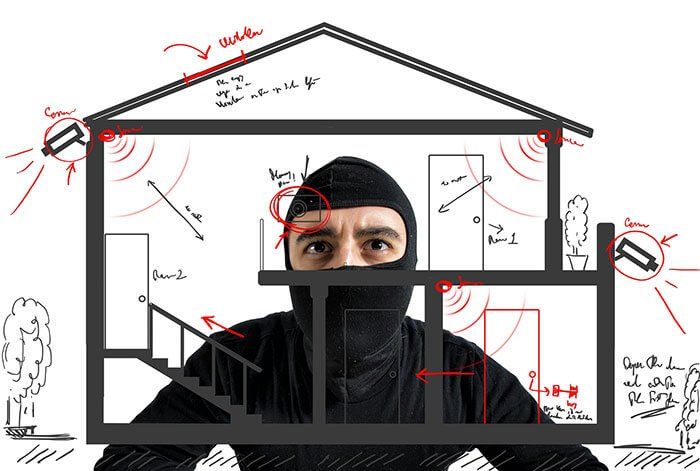 Will your New Year resolutions include strengthening your home security? Many homeowners are not aware of the weak spots or vulnerabilities in their home. We are often so busy with day-to-day activities and responsibilities that danger and security weaknesses in our home may go unnoticed or overlooked.
The following checklist was composed to help identify and improve areas in your home that could prevent break-ins or burglaries. We have also provided tips for refining your home's security in 2019!
If you are interested in a free professional home security audit, please contact Owen Security Solutions to schedule an appointment. Our Security Advisors are happy to do a thorough walk-through with you to check all security details and explain your home's vulnerabilities.
Does your home have a security system?
A home security system is a very important part of deterring burglary in your home. A siren in the home can alert family members and potentially scare off intruders. Home security systems can be customized to your home and provide monitoring for fire and life safety as well as video surveillance of home.
Be sure to test your system monthly.
Is your home security system monitored?
A professionally-monitored security system is monitored 24/7 by trained professionals who can send emergency services if needed and to alert you of any intrusions or potential disasters when you are not home.
Be sure to test your system at least once a month to ensure proper communication with your company's monitoring department.
Does your home have working smoke detectors?
Smoke alarms and heat detectors should be installed in every home to alert those in the home of an emergency. These systems should be periodically tested to ensure their efficiency and safety. Batteries in these detectors should be checked at least semi-annually.
Having these detectors installed and monitored can help protect your home and property when you are not home by having emergency services dispatched. These systems should also be periodically tested to ensure their efficiency and batteries should be checked at least semi-annually.
Do you have fire extinguishers easily accessible?
Fire extinguishers are the first line of defense and can often contain or extinguish a fire before it gets out of control, causes costly property damage or bodily harm.
Does your home have working carbon monoxide detectors?
Carbon monoxide detectors should be installed in every home to prevent possible carbon monoxide poisoning from the invisible, odorless gas.
These systems should be periodically tested to ensure their efficiency and batteries should be checked at least semi-annually.
Is your home's exterior well-lit?
It is recommended that outdoor lighting be installed on homes to deter burglars and give the impression that someone is home. Motion lights can be used to make it more difficult for suspicious individuals to move or lurk outside your home.
Is your landscaping clean and kept?
The landscaping of your home should give the appearance that someone is home frequently. An overgrown lawn or shrubs can indicate an empty or abandoned home and are more often targets for theft.
For safety, you should be able to view your yard from your windows and shrubs should not provide a burglar with place to hide. Also, using shrubs that have thorns or prickly leaves can help deter possible intruders from easily gaining access to your windows.
You should ensure that no trees or landscaping material provide an intruder with access to your home's upper levels.
Is your yard fenced?
A tall fence can make it difficult for outsiders to see what is on your property or in your home and provides an additional obstacle between your home and a thief.
Is the gate to your backyard secure?
Gates should also be secured in effort to deter intrusions. Hinges should be placed to the inside of the gate and latches should be far enough down that they are not accessible by reaching over the gate.
Do you store your grill, lawn mowers, bikes, ladders and other outdoor valuables in a locked garage or shed?
It is recommended that all valuables are stored in buildings or garages that are included in the home's main security system and have quality locks installed to reduce the appeal to intruders.
Do you know your neighbors?
One of the most important benefits of getting to know your neighbors is the additional home protection. Often, neighbors will assist in keeping an eye on your home while you are out of town and can report suspicious activity.
Do you leave a key under your doormat?
It is common for people to leave keys out for a friend or family member to gain access to their home while they are away. Unfortunately, this is often the first place a thief thinks to look when trying to gain access into a home. If you find that you need to leave a key for someone, there are coded lockboxes that can be installed to store a key; however, even this doesn't secure your home, as it simply advertises to a potential burglar that it contains a key to your home.
We suggest investing in home automation door locks that allow the homeowner to lock or unlock the home from anywhere using a mobile app.
Do you have motion-sensor lights installed?
Motion-sensor lights can be positioned to light up the entrances to your home, including gates, doors and areas with dark trees and bushes. Often, bright lights that turn on suddenly will persuade unwanted intruders to back away at the risk of being spotted.
Do you have yard signs or window decals displayed to show your home is monitored?
If you have a monitored intrusion detection system, simply displaying your monitoring company's decal or signs can be a theft deterrent. Signs and decals should be displayed prominently on doors, windows and in the yard to announce the presence of a security alarm system in the home.
Does your home have surveillance cameras?
The mere presence of security cameras on the outside of the home is a definite deterrent to would-be intruders. They help protect against property theft and vandalism and can provide video evidence in the event of the crime.
Does your home have mail slots or pet entrances that have not been secured?
Skilled thieves can use areas such as these to gain entry into your home. You should frequently check on these areas of your home to ensure they stay secured.
Have all of your door locks been changed since you moved in?
If your home's locks haven't been changed, any copies of the key that were made and distributed by previous owners will still operate your locks and allow them to easily access into your home.
Do your solid wood or steel perimeter doors fit tight in their frames?
Perimeter doors should be made from solid wood or steel and use a deadbolt lock in addition to any other lock. It is recommended to use doors without glass that could be broken to gain entry into the home.
All basement doors and windows should be secured from inside the home as well. To take your home protection a step further, basement windows could be reinforced with decorative security bars.
Do you have secondary locks on sliding glass doors or secure the inside track?
Sliding glass windows are a weak security point for many homes. They provide possible intruders with a view inside the home and show off your valuables. They are also the easiest point for an intrusion.
We suggest securing sliding glass doors with an adjustable security bar, as well as security system contacts and glass break alarm.
Do you have keyed deadbolts on exterior doors?
Deadbolts should extend deep into the doorframe to prevent easy intrusion. It is recommended to secure your home with a secondary, one-sided deadbolt when possible. These locks do not have keyed access from the outside and can only be used when you are home to engage the lock from inside the home. They are more difficult for a burglar to bypass and give you extra security from an invasion while you sleep or spend time with your family.
Does your main entry door have a peephole or video door viewer?
Peepholes allow you to see who is outside your door without opening it, a much safer way to see who is on the other side of the door.
Video door viewers are the technologically advanced peephole. When the device senses motion, it turns on, notifies the homeowner and records the interaction. Many of these devices allow two-way communication with the person at the door, giving the appearance that you are home and lessening the likelihood of intrusion.
Do you store valuables in a safe or safety deposit box?
Valuables should be stored in a safe and locked location of the home. This should be out of sight from any windows to reduce the temptation to a burglar.
Do you keep an inventory of personal property in case of theft?
Since most people cannot name every item they own, keeping a detailed list or video log of your belongings can help replace them if they are stolen or destroyed in a theft or disaster.
Do your lights have timers on them?
Timers are an inexpensive way to provide home security and deter theft. They can be used for lights, televisions and radios to make it appear that someone is present in the home.
Do you have your mail held when you are out of town?
Thieves often keep an eye out for homes with accumulated mail as an indication that the home is vacant. You can easily have your local post office hold your mail when you intend to be away to prevent being a target for burglary, as well as preventing theft of postage you may receive.
Are your valuables visible from doors and windows?
Be sure your doors and windows have adequate coverings and that your valuables cannot be seen from outside the home to prevent tempting potential thieves.
About Owen Security Solutions
For more than 40 years, Owen Security Solutions has been a locally owned and operated business committed to providing North Georgia with trusted service and premier solutions for the protection of lives and property. For more information on the products and services provided by Owen Security Solutions, please visit http://www.OwenSecuritySolutions.com