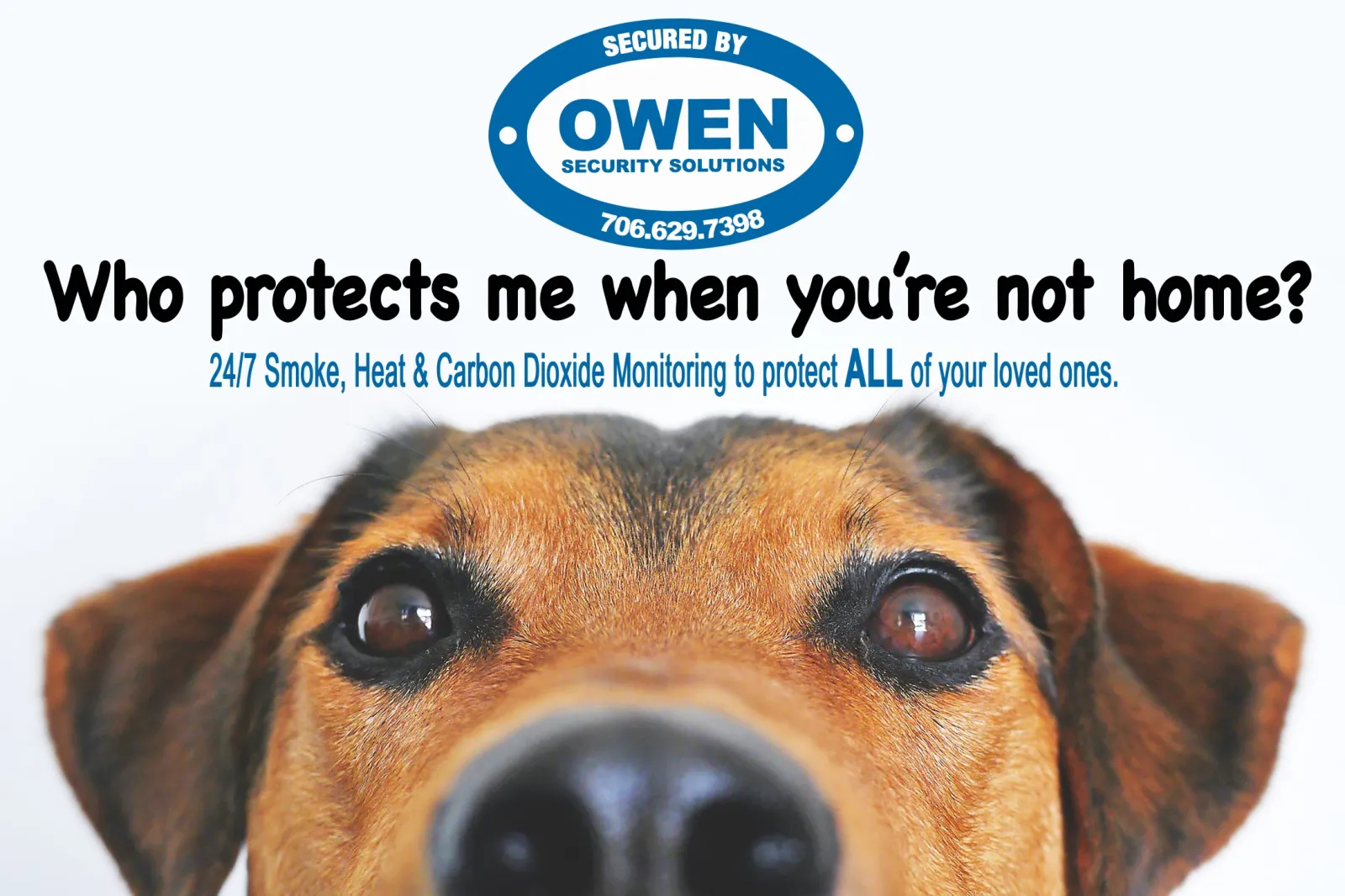 October is National Animal Safety and Prevention Month. What better way to show your furry family members that you care about them than to use your home security system to protect them when you're not home?
According to a study done by the American Kennel Club (AKC), 88% of pet owners consider their dogs or cats to be valued family member. Along with the basic needs of these furry family members, pet owners should also remember to consider their pets' needs in an emergency situation.
Most homes and apartments come standard with some sort of non-monitored smoke, heat and/or carbon monoxide detectors. These devices are great for alerting occupants when they are present, but what happens if you are not home? Not only is your property and possessions at risk, but so is the life of your beloved pet. With a monitored security system, authorities are alerted immediately when they receive signal from your life safety devices. This reduces the risk of the injury or death of a pet due to a house fire, smoke inhalation or carbon monoxide inhalation. These sensors can also be set to send notifications to your phone via a mobile application for added peace of mind.
Many homeowners choose to leave their family pets at home while out of town instead of boarding them in kennels. A monitored security system can be set up with temporary access codes for family members, trusted friends or petsitters to drop by to and check in on the home and animals. This allows access to the home while still offering the confidence that the home is secure and protected. In addition, it allows the homeowner to know when the system is armed and disarmed.
Added benefits to professionally installed and monitored home security systems include:
Protecting your belongings and your beloved pet from burglars by alerting authorities if an intrusion occurs.
Ensuring your pet is happy and comfortable by monitoring your home's thermostat remotely using a mobile app. Added bonus-this can also reduce utility bills!
Reducing false alarms in your home by having pet-immune motion detectors installed and calibrated by professional technicians to ensure your system can remain effective without false alarming.
Taking advantage of the wireless technology offered by professionally installed security systems, eliminating possible damage to the system by your pet while reducing possible risks of electric shock or digestion of unsafe material by your pet.
If you are interested in protecting your loved ones, belongings and furry family members, contact an Owen Security Solutions representative today! Also, be sure to stop by our office and pick up a window decal for your home to alert first responders that there is a loved member of your family inside the home in the event of an emergency!
About Owen Security Solutions
For more than 40 years, Owen Security Solutions has been a locally owned and operated business committed to providing North Georgia with trusted service and premier solutions for the protection of lives and property. For more information on the products and services provided by Owen Security Solutions, please visit http://www.OwenSecuritySolutions.com